See below for which firmwware to use with which model.
Download
Editor & Firmware v5.04 - What's New?
User Guide

NOTE: If your settings are in a version older than 5.04, you will need to open and save your settings in this version 5.04 of the editor, then load them into your MFC.
Features
Supports all Mark II and original BJ Devices MFCs: TB-5, TB-6P, TB-8, TB-11P & TB-12
Supports BJ Devices BS-2 up/down footswitches (aka stand-in switches)
8 footswitch pages (aka layouts)
Each footswitch has a main function and optional hold function
Pedals can have dual functions
Up to 25 banks for patch footswitches with 10 patches per bank (max 250 MFC patches)
Up to 100 effects, including multi-effects
25 effect groups
4 effect types: toggle, select, momentary, and toggle can act as momentary if held down
Up to 25 steppers (for 3-way switches, up/down effects and more)
Up to 25 control pedals
Patches, effects and steppers can send any MIDI messages as well as MFC commands
Footswitches and pedals can be overridden on a per-patch basis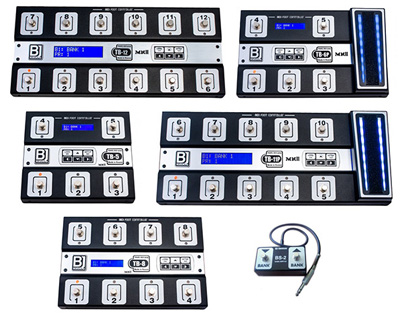 Supported Models
All BJ Devices models are supported: TB5, TB-6P, TB-8, TB-11P and TB-12. These models are either an ORIGINAL release or the new MARK II releases which have more memory available for settings. This table shows which GM Arts firmware to use:
FIRMWARE
FEATURES
HOW
Version 5
for
MARK II MFCs
Easy to use editor with powerful and flexible features.

Editor and firmware is available above.
Load firmware into your MFC via USB with the "Chip 45" tool.
Send settings into your MFC via MIDI with the Editor.

Version 5
for
ORIGINAL MFCs

Easy to use editor with powerful and flexible features.
Works for small setups, within memory limits of the original MFCs.
User patch names and custom steppers are excluded.

Editor and firmware is available above.
Export settings from the editor (on the File menu).
Load firmware and settings into your MFC via USB with the "Chip 45" tool.

Version 4
for
ORIGINAL MFCs
(no longer supported)

Flexible but limited features
User patch names and custom steppers are excluded
Can be complex to set up