What's New? FOR SALE page Copyright Notice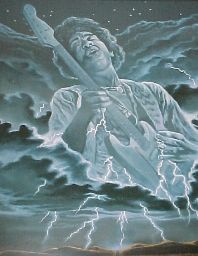 My interests include electric guitar, playing live music, writing MIDI sequences, programming in Visual Basic, dabbling in electronics, with a casual interest in popular science. I learned my craft with curiosity, trial and error in times before the Internet when much of this information was held secret by the experts. I have many years of experience in these fields, and use these Web pages to share my knowledge freely.
This site is offered in the hope that readers will better understand electric guitar technology, leading to creative use of your musical tools. Of course, only practice will improve your musical vocabulary and articulation. These pages have been online, without advertising, since the mid 1990's and I'm delighted to observe a significant improvement in general knowledge of guitar technology since that time. Of course, I don't pretend to take all the credit for that, but I do believe I've contributed.
It's probably inevitable that musical advertisements continue to claim their gear contains magical properties that will transform you into a guitar hero. Quite simply, just because a piece of gear may happen to be built identically to one allegedly used by a particular guitar legend (often conveniently now deceased), it will NOT make you instantly play or sound like him or her. It will give you a sound that may or may not suit your own style, abilities and other gear.
So please read and enjoy. I've attempted to describe this technology in lay terms and avoid technical jargon as much as possible. I've also attempted to write as objectively as possible, however, I expect you'll soon note my preferences for hearing tone from all components in the signal chain: the guitar, amplifier and speaker. This requires subtlety, restraint and control: less really is more. Those who've been around a while have had the privilege to witness many guitarists mature in their playing and tone with that exact formula.
Click on any of the topics at the left or below for more!
I welcome site suggestions and feedback: Email GM Arts
May 10 New guitar scale calculator to show fretboard postions for over 40 common scales.
May 10 Some additions and clarifications on the Guitar Chord pages and a new page for Scales & Modes.
Apr 10 Some additions and clarifications on the Relativity pages.
Mar 10 Some more wiring ideas on the pickup wiring page.
Nov 09 New page on Easter Sunday date FAQ .
Nov 09 Explanation of how humbuckers buck hum on the combining pickups page.
Oct 09 Lots of new pickup wiring ideas and tricks on the pickup wiring page.
Oct 09 More explanations on how just about every component in the guitar signal chain modifies the raw guitar tone on my electric guitar page.
Oct 09 Upgraded site to PHP/SQL with new menus, search function, a new style and current HTML standards. Also moved to a new web address: www.gmarts.org so please update your favourites if you use them.
Sep 08 New page on gear, dialling in tones, and getting your own tone. Also retired a couple of pages on the old Roland GP-100 processor.
Aug 08 Long overdue updates to the digital modelling page.
Mar - Apr 04 Still making minor clarifications based on email discussions. Many thanks to those involved! The most recent have been my revision of the decibels being generally perceived as twice as loud and the acknowledgement that popular astronomical interpretation of Vernal Equinox is the March Equinox, even though Vernal means springtime, and the spring Equinox occurs in September in the Southern hemisphere.
11 Dec 02 Several minor clarifications to the calendar pages.
21 Jan 02 Minor revision to my generic overdrive schematic on the overdrive & distortion page.
6 Jan 02 Revised the guitar chord pages with lots of new chord diagrams.
11 Jul 01 I've decided to spend more time away from the PC, so I have a new email policy.
13 Apr 01 Added 10 of my favourite solos with sound clips on a new My Favourites page.
29 Mar 01 A couple of new items on the FAQ page.
31 Jan 01 Added several new pages with info on Roland JV &amp XV synths.
31 Oct 00 New links to interesting sites on my Pickups page.
13 Aug 00 Updated my own generic overdrive schematic on the Overdrive and Distortion page.
29 June 00 Major reorganisation of the Calendar and Easter dating pages. Added new information on calendar history.
16 June 00 Simplified tables on the Perpetual Calendar page.
5 June 00 Added Fender and Marshall tone EQ charts to the Amp Basics page. Also added a new page on amplifier Power and Volume.
22 May 00 Added amplifier pictures on the Amplifiers page and valve pictures on the Valve vs Solid State page.
16 May 00 I guess that enough people are using the latest browser versions to warrant using cascading style sheets on my site. The most visible difference is that links show in different colours when you hover over them with the mouse pointer. I hope you like the more interactive 'feel' of the site!
6 May 00 Clarified some wrong definitions of Easter found on the Internet and even in encyclopaedias on my Easter page.
1 May 00 Added some information about piezo acoustic pickups on my What's In a Pickup? page.
28 Apr 00 Even though most of the Interesting & Frequently Asked Questions are still about guitar pickups, I've added some new questions on other topics, such as guitar woods, action and treble bleed circuits, and amplifier choices and power classes. Also added a switching modification for Fender Mustang owners.
23 Apr 00 Minor updates on several pages, including Digital Effects and Making Music.
22 Mar 00 Added my top 5 guitars to the Electric Guitars page.
20 Jan 00 Added several pickup pictures to the What's In a Pickup? page, and standard wiring diagrams to the Pickups - Interesting and FAQ page.
2 Jan 00 Added some pickup re-wiring suggestions to the pickup combinations page.
2 Jan 00 Updated guitar amplifier overdrive and distortion with a discussion of amplifier types, and various stompbox schematics.
1 Jan 00 Looks like we all survived Y2K ;-)
Changes prior to 2000 have been archived
May 96 Launched site (approx 40 pages), refined navigation and added more pages over following months.
---
Spelling! - This is an Australian site, so some words have different spellings than other sites. Some examples are: words ending in "our" like colour and flavour, words ending in "ise" like realise and organise and words ending in "re" like centre and metre.
Also, in the context of these pages, "valves" and "tubes" are the same thing.
---